Do you want to find a reliable roofer in your area? We understand that selecting the right roofer can be a daunting task, but it's one of the most significant investments you'll make in your home's longevity and safety. Whether you're facing a minor roof repair or a complete roof replacement, the process of finding the best roofers near you can be simplified with the right knowledge.
Why Finding the Right Roofer Matters
A well-maintained roof can be your home's faithful companion for decades. A skilled and experienced roofer understands the intricacies of each type of roof, roofing materials, weather patterns, and the unique demands of your geographic location. They know how to install, repair, and maintain your roof to ensure its longevity.
A good roofer is not just a contractor. They meticulously inspect your roof, identifying issues before they escalate into costly problems. They use high-quality materials, expert craftsmanship, and industry best practices to ensure your roof can withstand the test of time.
Assessing Your Roofing Needs
Before finding the perfect roofer, you need a clear understanding of your roofing needs. You may need a new roof or repairs can be sufficient. Every roof is unique, and identifying your specific requirements is the first step toward ensuring that you get the right services. Here are some tips for assessing your roofing needs:
1. Signs of roof damage or aging
Your roof doesn't come with an expiration date, but it does give you signs when it's time for some attention. Look for common indicators that your roof may be in need of repair or replacement such as:
Roof leak
Missing or Damaged Shingles
Sagging Roof
Excessive Granules in Gutters
Moss or Algae Growth
Aging, old roof
Storm damage
Energy Efficiency
2. Roofing materials and style considerations
If you have identified potential issues with your roof, the next step is to consider which type of roofing material suits your needs and preferences. Materials may differ depending on whether you need to repair residential or commercial roofing. Some common roofing materials include Asphalt Shingles, Metal Roofing, Wood Shakes or Shingles, Slate Tiles, Tile Roofing, and Flat Roofing.
3. Other matters
If your property is part of a homeowner association (HOA), consider the HOA's rules and regulations when planning roofing projects.
Also, consider your budget, the climate in your area, and your personal style preferences to choose the best roofing materials for your situation. Additionally, think about the architectural style of your home and how the new roof will complement its overall appearance.
By assessing your roofing needs thoroughly and understanding the signs of damage or aging, you'll be ready to discuss your requirements with potential roofing contractors and pick the right one for you.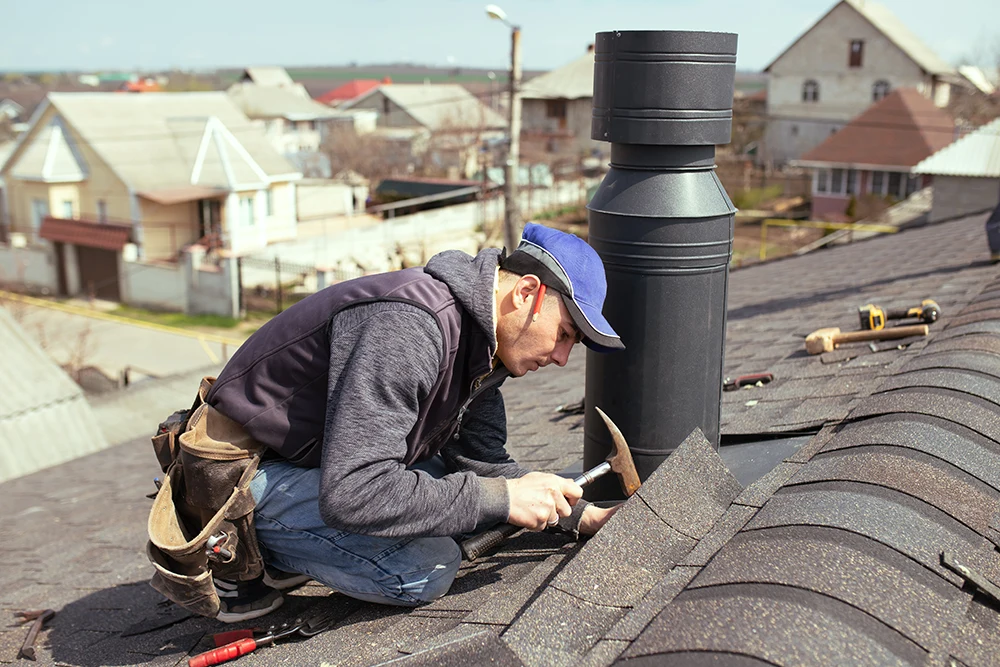 Is your roofing contractor familiar with your locality or specific neighborhood?
When choosing a roofing contractor, consider whether they have experience working in your specific area or neighborhood.
Roofers familiar with your area understand the local climate, weather patterns, and unique roofing challenges that may arise. This knowledge helps them make informed recommendations and ensures that your roof is built to withstand local conditions.
Additionally, roofing companies near your property are well-versed in local building codes and regulations. This ensures that your roofing project is compliant with the law and reduces the risk of issues arising during or after construction.
Further, roofers who have worked in your neighborhood may have a reputation within the community. You can seek recommendations from neighbors who have previously hired them, providing valuable insights into their work quality and reliability.
As a bonus, local contractors are more accessible and typically respond faster to emergencies or post-project inquiries. This accessibility can be especially beneficial in urgent situations.
Finally, when you hire a roofer who is local, you support businesses in your community, contributing to the local economy and fostering a sense of community engagement.
Thus, choosing a roofing contractor with experience in your area or neighborhood can lead to a smoother, more informed roofing project that is well-suited to the local environment and regulations.
Researching Local Roofing Contractors
While hiring a local roofing company is often the solution, not all contractors are the same. Follow the tips below to find a roofing contractor best suited to your needs.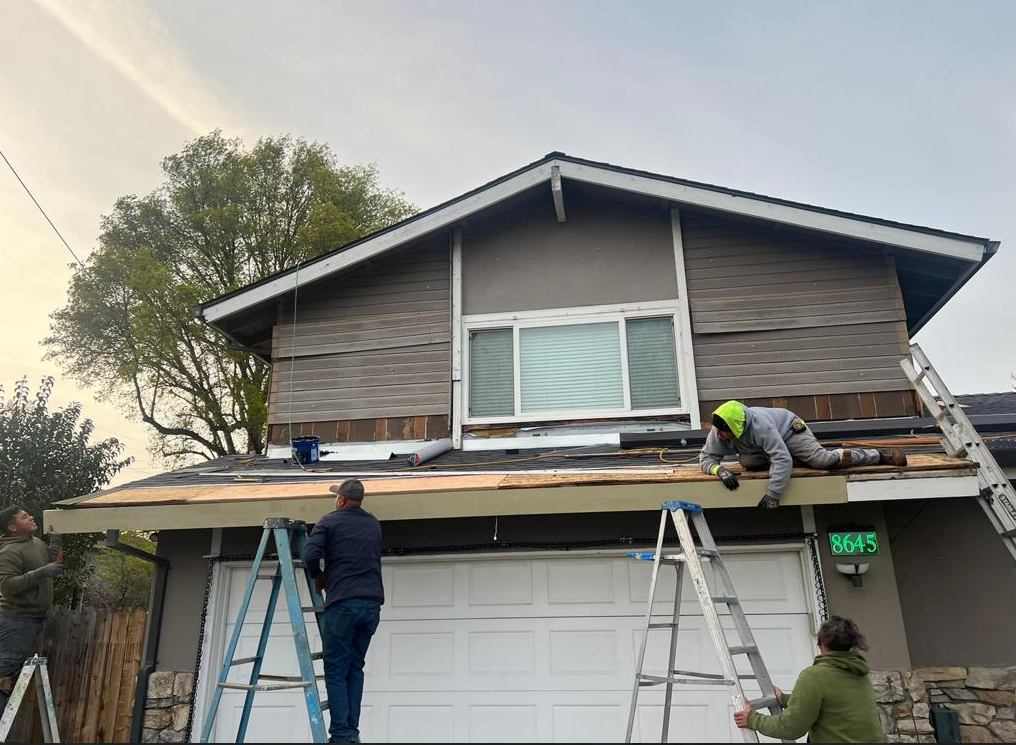 1. Using online directories to find local roofers
In addition to personal recommendations, read reviews and online testimonials for roofing contractors near you. Platforms like Google, Yelp, Angie's List, or the Best Business Bureau can provide a wealth of information from previous clients.
2. Asking for Recommendations from Neighbors and Friends
One of the most effective ways to find a trustworthy local roofer is to seek recommendations from those you trust:
Your neighbors who have had roofing work done recently can provide valuable insights into their experiences with local contractors. Ask them about the quality of work, timeliness, and overall satisfaction.
Friends or family members in your area may have hired a local roofer in the past. Their recommendations can help you narrow down your choices and help you find a contractor you can trust to repair your roof.
Visit local building supply stores or roofing material suppliers. They often have connections with reputable local roofers and can recommend a roofer near you.
Join local community forums or social media groups where residents discuss home improvement projects. You can ask for roofing contractor recommendations and gather feedback from your neighbors
Essential Qualities of a Reliable Roofer
Other considerations to take into account before hiring a roofer include licensing and insurance. We hope nothing goes wrong with your project — but isn't it better to be prepared?
The most fundamental requirement for the right roofing contractor is a valid state license. This demonstrates that they have met the necessary regulatory standards and are legally allowed to perform roofing work in your area.
Professional roofers often hold certifications from roofing material manufacturers. These certifications indicate that the contractor is trained and approved by the manufacturer to install their products correctly.
In addition, a reliable roofer will obtain all required local permits for your roofing project, ensuring compliance with local building codes and regulations.
Insurance Coverage
A reliable roofing contractor should have comprehensive general liability insurance. This insurance protects you in case of accidental damage to your property during the project.
Ensure that the roofing contractor carries worker's compensation insurance for their employees. This coverage safeguards you from any liability if a worker is injured on your property.
Some states or municipalities may require roofing contractors to be bonded. Bonding provides financial protection in case the contractor fails to complete the project as agreed.
The Importance of Obtaining Multiple Quotes
The goal of homeowners in need of roof services is to find a roofer who will do a great job at a reasonable price. Part of this is getting multiple quotes, from a simple repair cost to a roof replacement cost. When you request quotes from multiple roofing contractors, you can compare the costs and get a better understanding of the average price range for your project. This helps you avoid overpaying for the services you need.
To avoid comparing apples to oranges, each quote should outline the scope of work, allowing you to assess what each contractor plans to do. This ensures that you're on the same page regarding the project's details.
Keep in mind that contractors may propose different roofing materials and quality levels. Multiple quotes let you evaluate the options and select the one that best aligns with your budget and preferences.
Armed with multiple quotes, you're in a stronger position to negotiate the cost. You can request adjustments to the project scope or pricing based on the competitive quotes you've received.
Beyond price comparison
To make the most out of multiple quotes, go beyond just comparing prices:
Assess the experience, reputation, and qualifications of each contractor. A slightly higher quote from a well-established, experienced roofer may be worth the investment for the quality and peace of mind they provide.
Also, pay attention to the warranties and guarantees offered by each contractor. A longer warranty can be an indicator of a roofer's confidence in their work.
Time is another factor to take into account. Evaluate the proposed project timeline. Consider your own scheduling needs and the contractor's ability to meet them.
In addition, verify that each contractor holds the necessary insurance and licenses. A lower-priced quote from an uninsured contractor may end up costing you more if accidents or damage occur during the project.
Finally, assess how responsive and transparent each contractor is during the quoting process. Effective communication is often indicative of a reliable contractor.
How to conduct interviews with prospective roofers. Questions to ask during interviews
Interviewing potential roofers is a critical step in finding the right fit for your roofing project. Here are some important questions to ask during the interview:
Factors
Clarify information
Questions
Experience
Inquire about the roofer's experience, including the number of years they've been in business and their familiarity with your specific roofing needs.
– How many years has your roofing company been in business?
– Can you provide examples of roofing projects similar to mine that you've completed?
– What roofing materials and systems are you experienced in working with?
References
Ask for references from recent projects. Follow up with those references to get firsthand feedback on the contractor's work.
– Could you please provide references from your recent roofing projects in our local area?
– May I contact these references to discuss their experiences working with you?
Insurance and Licenses
Make sure that you find local businesses that have the necessary insurance coverage and valid licenses for your area
– Are you licensed to operate as a roofing contractor in our area, and can you provide proof of this?
– Do you carry liability insurance and worker's compensation insurance?
– Can you provide a copy of your insurance certificates?
Project Timeline
Discuss the estimated timeline for your project and inquire about their availability to ensure it aligns with your schedule
– What is your estimated timeline for completing our roofing project?
– Are you currently booked with other projects, and will you be able to start our project as planned?
Warranty
Clarify the warranty details for both materials and workmanship and ask about any post-project support they provide.
– What kind of warranty do you offer for both materials and workmanship?
– Do you provide any post-project support or maintenance services?
Project Details
Ask references about the scope and scale of their roofing projects. This can help you assess whether the contractor is experienced in handling projects similar to yours.
– Can you describe the scope of work for our roofing project in detail?
– Have you worked on similar roofing projects with specific challenges or features like ours?
Satisfaction Levels
Inquire about the clients' satisfaction levels with the completed work. Were they happy with the quality, timeline, and overall experience of the roofing services?
– Can you share some feedback or testimonials from past clients regarding their satisfaction with your work?
– Were your previous clients happy with the quality of your work, the timeline, and their overall experience?
Any Issues
Ask if there were any issues or challenges during the project and how the contractor addressed them. This can give you insights into the roofer's problem-solving abilities.
– Have you encountered any unexpected issues or challenges on past roofing projects, and how did you address them?
– Can you provide an example of a difficult situation you've successfully resolved on a roofing project?
Communication skills
Finally, assess their communication skills during the interview. A roofer who is attentive, responsive, and clear in their communication is likely to be reliable throughout the project.
– How do you typically communicate with clients throughout a roofing project?
– Are you responsive to client inquiries and concerns?
– Can you describe your approach to maintaining a professional and organized work environment?
Observe their professionalism during the interview. Are they punctual, organized, and well-prepared? Professionalism often carries over into their work. Evaluate their transparency in answering your questions. A transparent roofer is more likely to provide an accurate estimate and avoid hidden costs.
By conducting thorough interviews, you can make an informed decision.
Potential Consequences of Hiring an Inexperienced Roofer
Hiring an inexperienced or unqualified roofer can lead to a cascade of problems. An inexperienced roofer may cut corners, use subpar materials, or lack the skills to address complex roofing issues. This can result in shoddy workmanship that compromises the structural integrity of your roof something you will learn the hard way.
The consequences of such negligence can be dire. Leaks, mold, and water damage can infiltrate your home, leading to costly roof repairs and health hazards. Moreover, an improperly installed roof may not meet local building codes, potentially decreasing the value of your property and causing issues when it's time to sell.
In the worst-case scenario, a poorly executed roofing job can be hazardous to your family's safety. Roofing accidents are not uncommon, and inexperienced roofers may lack the safety measures and training required to prevent them.
Finding the right roofer is not just a matter of convenience or aesthetics; it's a matter of safeguarding your home, your investment, and your loved ones. A reliable roofer is your assurance that your home's first line of defense remains strong, with no leak, ensuring your peace of mind in all weather conditions.The best way to meet the best roofer for your needs? Get in touch with us today to receive a free, no-obligation quote! Whether you need to repair or replace your roof, call us today and our experienced technicians will discuss your options with you.